Fine dining with Miami flair.
Enjoy a variety of dining options, crafted to satisfy your cravings.
At Covenant Living of Florida, we know that variety is important to you. That's why we give you so many delicious options – and let you decide what you're in the mood for!
Our elegant dining room is a great place to enjoy a delicious, leisurely meal with friends, while enjoying views of tropical sunsets and palm trees. Start your dinner with coconut shrimp or Asian chicken salad, and then move on to the seafood scampi or filet mignon.
In all our dining venues, we offer flexible dining times that fit around your schedule. Our Executive Chef and professional culinary team create a wide variety of appetizing daily specials in addition to our weekly lunch and dinner menus. Enjoy our ever-changing menu that ranges from traditional and gourmet specials to grab-and-go snacks from our Bistro.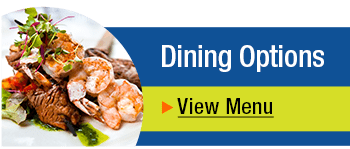 To learn more about our services, please click here to contact us online or call us at (877) 231-6285.